Cancer, the inadmissible truth
"Cancer the Inadmissible Truth" is the result of 10 years research on the oxidation and mutation of cells and pulls together the sometimes contradictory aspects of cancer research.

"Cancer the Inadmissible Truth" demonstrates, by clear examples, how the processes of water chlorination and electrical grounding act together to affect both cancer and heart failure.

This new book has clear examples of the cancer epidemic and a unique example of the epidemic being turned off as the result of the author's research.


Cost is $12-00 plus $2-50 packing and postage within New Zealand. Overseas orders will cost a little more, $16-00 incl. postage.

Format is paperback, A5, 57 pages. Included is a recommendation by Dr Jim Sprott, forensic scientist and author of "The Cot Death Cover-up?"
Stephen G Butcher (Posted 07/03/14)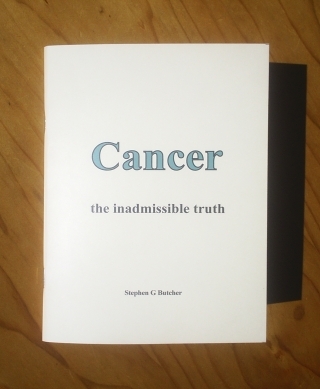 Link
here
to read the Introduction to the book,"Cancer the Inadmissible Truth."
The real cause of the Cancer Epidemic is exposed and confirmed by peer reviewed research and clear examples.